Location
---
9420 Manchester Rd
Rock Hill, MO. 63119
Sunday – Thursday 11:30 to 10:00
Friday & Saturday 11:30 to 11:00
Telephone: 314-961-9191
@ the corner of Manchester & McKnight
Today's custard flavor is: Butter Pecan
---
Our current 'extra' flavor is:
Butter Pecan
An oldie, but a goodie – tried and true – a customer favorite.  Any way you put it, it is delicious!   Ask for a sample in case you want to try before you buy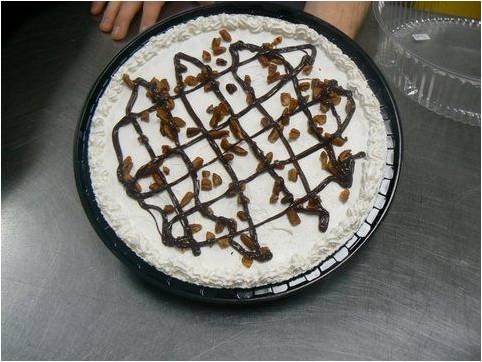 Celebrate with a Custard Cake or Pie
---
Cakes and Pies are made to order (but we do have some pre-made if you are in a hurry) and are a great way to celebrate any occasion. Whether you want a turtle cake or pie, a Oreo pie or a 'create your own', it's all blended with our super rich, creamy custard! Sure to be a hit for any event.
If you want a create your own 'made to order' cake or pie, please provide us with 3-days notice.
Key Lime Pie Concretes Are Back
---
Our delicious KEY LIME PIE concrete is back for the Spring/Summer.  Made with a slice of real key lime pie and mixed with our rich, creamy vanilla custard.  And if that is not enough we top it all off with whip cream!
Come hungry and come often to get this item!
A seasonal favorite and OHHHH so good -but you better hurry….it's for a limited time only!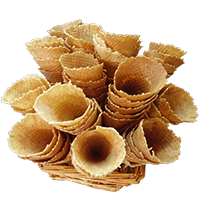 Waffle Cones
---
Ask for our home-made waffle cones!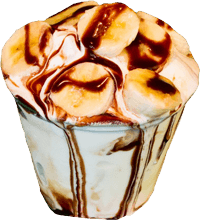 Banana Cabana
---
Try our banana cabana!
Chocolate and bananas! Delicious!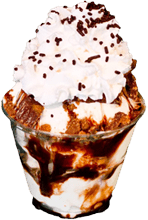 Peanut Butter Island
---
A favorite for many!
Chocolate & peanut butter cups, topped with whipped cream & chocolate sprinkles.
About Us
---
St. Louis Frozen Custard Factory first opened in 1998 at the corner of Manchester & McKnight in Rock Hill, MO. This is still our flagship store and is a landmark in the Mid-County area.
How have we managed to stay in business so long? Simple: We serve the smoothest, creamiest, richest custard anywhere – period! Besides our famous vanilla custard, we offer a 98% fat free vanilla custard, a no-sugar added vanilla custard, chocolate custard and our flavor of the month!
We stay open year-round with our drive thru and our spacious indoor seating – or enjoy sitting out front or in our grass area on the side of the building.
Whether you get one of our signature concretes or sundaes, a real fruit smoothie or a custard cake/pie, St. Louis Frozen Custard Factory is a 'must stop' anytime you are in St. Louis!